The Skyrocketing Rise of Reliance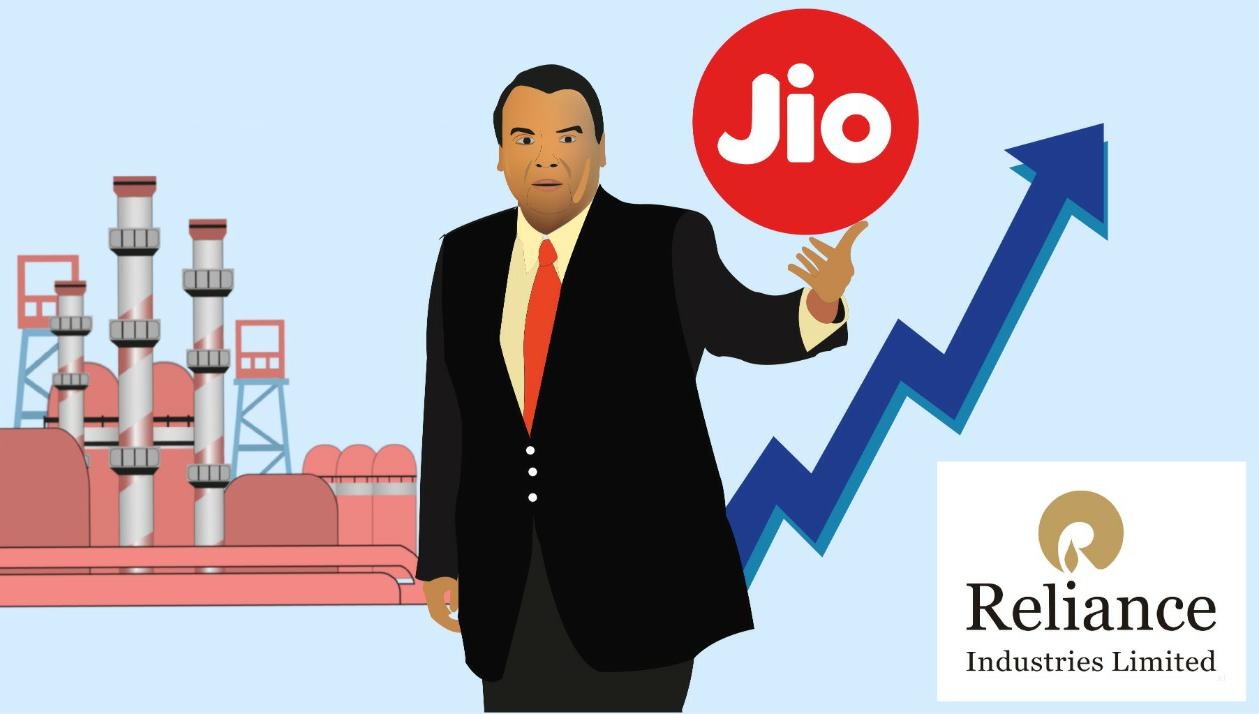 "Data is the new oil."

- Mukesh Ambani
THE SCOOP:
The news flashed as the headline read, "Reliance overtakes Exxon to become the world's number 2 energy company, as it crosses ₹14 Lakh Crore market evaluation."
The brainchild of Dhirubhai Ambani, Reliance Industries Limited was always touted to be a trailblazer for conglomerates in India. Based on its guiding principles of customer value, ownership mindset and collaborative excellence, the company has always been ahead of the curve.
It has recently been in the buzz due to its shrewd acquisitions, cutting edge innovation, as well as by attracting investment at a time of peak liquidity crunch. Let us understand exactly how the magnate has achieved this Herculean feat…
DIVING DEEP:
The tectonic shift from Oil to Tech with the rise of Jio
Let's take a step back and see how Jio became the fastest growing telecommunications network in the world and became responsible for T-series becoming the channel with the most subscribers on YouTube. In 2010, the non-compete which stopped RIL from getting into telecommunications was scrapped.
In June of that year, when the government auctioned the 4G spectrum, a company- Infotel Broadband Services Pvt. Ltd won the bid. The major players didn't pay much heed to the auction because their 2G and 3G infrastructure weren't ready for 4G, and the money they needed to invest in the equipment relative to the business opportunity couldn't be justified economically.
Hours after the bid went through, Mota Bhai's Reliance Industries, bought a 95% stake in Infotel and the competitors were bamboozled (regulatory arbitrage)! You guessed it, in January 2013, Infotel Broadband Services Limited was renamed as Reliance Jio Infocomm Limited (RJIL). Five years after the soft launch in December 2015, Jio today is the largest network provider in India.
Aggressive marketing, giving away free data for three months and then charging 30 times cheaper prices than the competition got Jio 5 crore subscribers in 83 days and today it has close to 40 crore subscribers. This single-handedly changed the data consumption habits of the entire nation and there has been a 40x increase in data consumption since the launch of Jio. This disruption gave T-series a massive boost on YouTube.
The pivot brought along with it: DEBT
India can create over $1 trillion of economic value and 60-65 million jobs from the digital economy by 2025. Mukesh Ambani's long term vision of making Jio a tech-major company and increasing non-oil based income is clearer now than ever. To lay down the infrastructure for Jio required a lot of capital.
Today Jio is the world's largest 4G LTE only network. Their infrastructure is future-ready for 5G and even 6G. We'll talk more about 5G later in this article. RIL is working to create an entire ecosystem at a magnitude of large proportions. Taking inspiration from tech magnates like Google and Apple where you trap the consumer in a bubble, making it difficult for them to leave and minimizing churn.
They did this in typical RIL fashion- inorganic, and at a neck-breaking pace. Reliance made acquisitions worth $3 billion in the past 3 years in diverse sectors. It seemed like RIL had overcommitted on diversification and growing too fast. Ambani, true to his style, was ready with his ace in the hole!
Within two years, it acquired or invested in various sectors that showed promise. Sheer vision and astute business acumen led this venture, and before we could blink, the company had either acquired or held some stake in the following:
Jio platforms now include 4G and 5G technology, Cloud computing, Device and operating systems, Big data analytics, Machine Learning (ML) and Artificial Intelligence (AI), Virtual and Mixed Reality (VR and MR), Blockchain, Natural Language Understanding (NLU) and Computer vision facilities amongst others.
The dawn of a new era: NET DEBT FREE
At the 42nd AGM of Reliance in 2019, Mukesh Ambani promised its shareholders that Reliance will become net debt-free in the next 18 months (March 2021). As of March 31, 2020, their net debt stood at ₹161,035 crores.
On June 20, 2020, Reliance announced that they were net debt-free, months before their promised deadline. Mukesh Ambani taking a page from Virat Kohli's book scored back-to-back boundaries and raised ₹168,818 crores in 58 days and delivered on its promise months in advance.
Well, technically Reliance is on its way to being net debt-free and it's not exactly debt-free just yet. Aramco is going to buy a 20% stake in Reliance Oil to Chemical business for ₹1.14 lakh crores, but this deal is stalled. A deal with Brookfield's investment of ₹25,215 crores is also upended, Both the deals are currently in the pipeline, because of the COVID situation and Aramco's IPO did not go as expected, let's see how this unfolds over time.
They raised money through the Reliance Right's Issue and sold a 24.71% stake in Jio and 25% of the ₹53,215cr raised from the rights issue has already been procured, while the remaining 75% will be sought in two tranches in May and Nov 2021. An additional ₹7,629 crore for a 49% stake in its fuel retail business was sold to BP Plc.
Cumulatively they have raised a total of ₹2,12,809 crore through the rights issues, the combined investment in Jio Platforms, and investment by BP. KKR's investment in Jio was its largest in Asia.
In their 43rd AGM which happened on 15th July 2020, Mukesh Ambani stated that their capital raising was complete and what would follow would be strategic partnerships. In the AGM talking about the rights issue, they said that it was the biggest in the country and it was oversubscribed over 1.59 times.
Jio and their brothers-in-arms
Okay, but why Jio? The digital services segment in India, including telecom, has grown 352% in two years. Oil, which is their biggest revenue generator, has resulted in negative earnings, and the fluctuation in oil prices isn't helping either. India has the world's second-largest and fastest-growing internet user base.
Reliance Jio announced strategic partnerships with Google and Facebook who are stakeholders in Reliance, and Facebook also has a board seat. If you've noticed, Facebook and Google have actually bought the stake at a discount relative to the other investors.
Why, you ask. Here's why- given they are strategic investors in Jio, they will also bring on board their tech and brand value. "Facebook and Google have come at a lesser valuation as there's a difference between the financial investors and the strategic tech investors. It is understood that the financial investors will pay a premium, as the tech investors will also bring their own technology in the deal," said Deven Choksey, Managing Director of KRChoksey Investment Managers.
In that AGM, they also announced that they will be partnering on developing an entry-level budget 4G or even 5G smartphone and it's OS for the population of India, which is still using a feature phone. Mukesh Ambani announced his goal to make India '2G Mukt.' Facebook and Jio will be joining hands on JioMart and WhatsApp.
Just within a few weeks, JioMart reached 200 cities and received over 2,50,000 orders a day and the numbers continue to grow. They have plans to expand JioMart beyond groceries to cover healthcare, electronics, fashion, and pharmaceutical.
Last year, they announced a partnership with Microsoft's Azure to improve cloud computing infrastructure in India, and in the AGM, Ambani said there have been positive developments on the same.
Reliance Retail is the fastest-growing retailer in the world and they were the only Indian retailer to feature in the top 100 global retailers. In the last five years, their retail business' revenue has grown 8 times and profit has grown 11 times. Reliance Retail is also helping farmers as 80% of their fruits and vegetables are sourced directly from farmers, they said in the AGM.
Then there's the big dog- 5G. In the AGM they also announced that they had developed a 5G technology standard. This 5G technology will also be ready for trials in India as soon as the spectrum allocation is done by the government of India.
The spectrum allocation is the auction of spectrum bands and is currently at an impasse because the telcos and the government can't agree on a minimum bidding price, also known as the reserve price, as the telcos want it to be lower and the government wants to keep it higher. The reason being, that the government believes that the telcos stand to make more money off of 5G and the latter say they can't simply because they have too much debt.
So, unless this is resolved, the 5G trials won't begin. They also announced Jio Glass, a mixed reality headset that will enable video calls, virtual classrooms, presentations, and a lot more. In the healthcare space, they discussed JioHealthHub, which will be a one-stop-shop for all healthcare services.
DEVELOPMENTS:
The exponential growth of the company that was once envisioned as a textile business, left many wide-eyed. Let us look into the birth of the conglomerate and the corporate drama that followed.
What followed was a fight between his two sons, Mukesh and Anil Ambani. The impact of the corporate battle on the financial markets was so huge that the then Finance Minister requested the two brothers to settle the dispute as quickly as possible.
Eventually, their mother had to step in and the elder brother Mukesh got the oil and gas business under Reliance Industries and Anil got telecommunications, finance, and infrastructure under the Reliance group.
COVID-19 impact and Jio rally
Fast forward to 2020, when the pandemic hit our country, but hit our economy worse. After the lockdown was announced, the RIL stock tanked to a 52w low of ₹867.40.
However, Ambani wasn't fazed by this and successfully sought capital infusion.
Investors came flocking to infuse money in the company's promise and future potential. A majority of this rise was contributed to the sheer number and amount of investments linked to not only RIL, but also its telecommunication arm: Jio.
This not only aligned with Ambani's debt-free initiative, but the perception also clearly reflected on Dalal Street, as the stock reached an all-time high of ₹2,163. That's a 140% jump in almost 4 months, making Ambani the 5th richest man in the world!
OUTLOOK:
It's clear now that Reliance wants to give you the petrol in your car, the clothes you wear, the shows and news you watch plus the data/TV for it, your monthly groceries, the music you listen to, the educational content for your children, your medicine, the payment service you'll use to pay for all of this content and more, the laundry list goes on…
This gives rise to mixed feelings- on one hand, it's great to see Jio trying to lead the technological innovation in India and trying to help SMEs, kirana stores and partnering with some start-ups on the way, but on the other hand, it is crushing the competition and taking over entire sectors.
Ambani said that after 5G trials they will even be ready to export 5G tech globally, competing with the likes of Huawei for telecommunication equipment, which rides well on the anti-China sentiment looming around. US Secretary Mike Pompeo even called Reliance a 'clean telco' for refusing to do business with Huawei.
Speaking on the anti-China sentiment Jio also launched JioMeet, a Zoom rival. China is despised at times for its lack of innovation and simply copying US apps and technology- Alibaba and Amazon/eBay, Baidu and Google, and Xiaomi and Apple. If you look at JioMeet and Zoom, the resemblance between the two is uncanny, it's important to note that JioMeet that was launched after. JioChat looks a lot like WhatsApp as well. Are these early signs of something we hope Reliance Jio doesn't turn into?
There lies emotions of opportunity and doubt moving forward, Mukesh Ambani called this the golden decade for Reliance. There are over 400 million feature phone users in India, the same as the population of the US. That is a huge untapped market and companies like Xiaomi and OnePlus have tried to penetrate that market with their budget phones but to no avail.
Last year, an analyst told Economic Times that 40-45% of feature phone owners have phones costing below Rs.1000. Converting these users is a tough nut to crack. The '2G mukt' plan of Jio could really hit Vodafone-Idea as well. Jio understands the Indian market and Google has the technology to build a new Android-based OS and hence the partnership's complementary nature gives them the firepower to tackle an equally daunting challenge.
Mukesh Ambani has also said that he plans to take Jio and Reliance Retail public in the next 5 years.
VERDICT:
The size of recent investments in Jio during such times is in a way proof of global confidence in the growth of India as a country. It is indicative of the fact that the world recognizes the market opportunity in India. Reliance is positioned as a tech enabler in India, it will spearhead technological progress and will create new market opportunities for start-ups and SMEs in India and the coming years will be exciting in the tech world of this country.
There is this fear with Amazon where everyone hopes they don't dip their hands in their sector because then they come at you with their size, money, dominance, and sheer speed, and in no time end up eating your market share. Now analogous to Amazon, Reliance is doing the same in India.
Ironically, Amazon is said to be in initial talks to invest in RIL and is speculated to buy around 9.9% stake in Reliance Retail, to begin with. It will be interesting to see this, as this clearly indicates the early roots of a global oligarchy, with Mr. Ambani on board.
After it's tech pivot, RIL scarily looks like FAANG- the big tech companies. Think about it, all your spending habits and the knowledge of consumer behaviour are useful data. When so much information and data are in the hands of one company, they have insights which they can use to get you to spend more money.
They are attempting to capture so many market segments and building a monopoly in each, this being done at an unprecedented scale and spectrum. Does this raise data privacy concerns for you? What are your thoughts on Jio and Reliance Retail's future?