Dhirubhai Ambani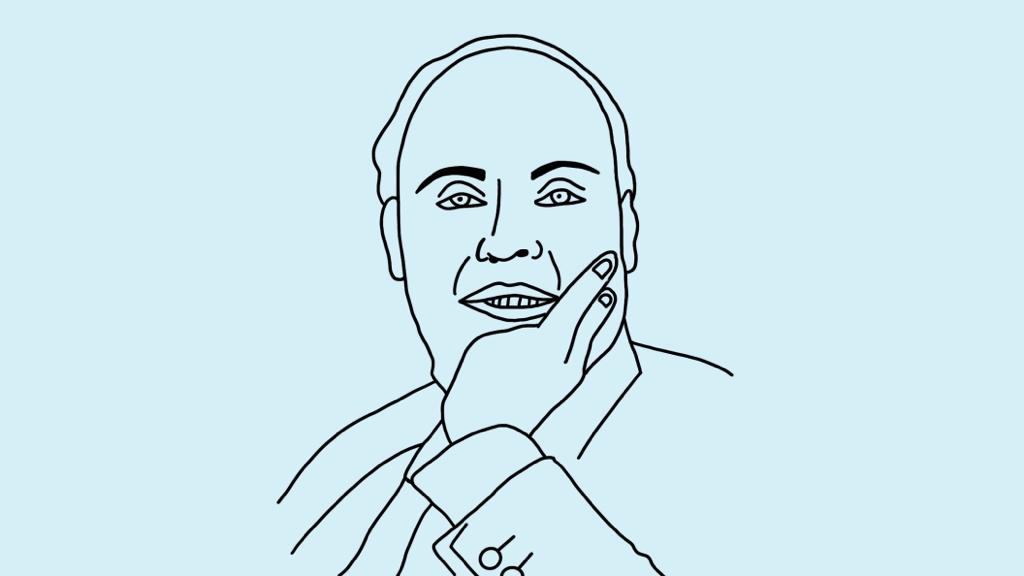 "If you are born poor, it is not your mistake. But if you die poor, it's your mistake." 
This is a story of a great person who started from scratch, followed his dream and made it come true. He is an Indian entrepreneur who changed the way business was being done in India. He encouraged people to beat the system, rather than be part of the system if one's dreams called for it. From being a spice merchant to a fabric seller to a garment manufacturer, it was his determination, inexhaustible enthusiasm and a never-to-be-dead spirit that took him through all the hurdles to emerge as India's company tycoon. He is none other than Dhirajlal Ambani, fondly known as Dhirubhai Ambani, the founder of Reliance, whose net worth was about $2.9 billion in 2002 upon his demise.
Born in 1932 in a small village in Gujarat, his father was a teacher and so, his family didn't have a lot of money. He moved with his family to Yemen at the age of 16, where he began his first job as an oil pump attendant. He was eager to trade and it was on the streets of Yemen that he learnt the art of trading. Since he didn't have enough cash to get into trading, he borrowed as much as he could from friends and small shopkeepers. "Profits we share and all losses will be mine" became his motto. Kokila Ben Ambani, his devoted wife, supported him and still stood behind in all his accomplishments.
Foundation of Reliance:
Ambani returned to India in 1958 and began the "Majin" textile company with his cousin Champaklal. Majin used to export products such as spices and rayon in Yemen and would import polyester. The first office in Narsee Natha Street in Masjid Bunder was set up by him. Later, in 1965, the relationship between the two cousins ended, as the two individuals had different attitudes towards the future of their company. From that point on, Dhirubhai started on his own. Dhirubhai sensed a great opportunity for business income in the textile markets and started a textile spinning mill called 'Vimal' in Naroda, Ahmedabad. Reliance Commercial Corporation was incorporated in the same year.
The year in which the corporation was made public, Reliance Textiles had an annual turnover of ₹70 crores. It launched its Initial Public Offering (IPO) in 1977 and the issue was reportedly oversubscribed seven times. But Dhirubhai Ambani managed to collect 2.8 million shareholdings by selling its shares at ₹10 each at the same time to people from small towns. This was, undoubtedly, a courageous move. He also began aggressively marketing his brand 'Vimal' much more and as many as 100 franchise stores were opened in a single day. The garment manufacturing unit was also rated as 'excellent' by developed countries. 
The company continued to grow its polyester yarn market. In 1985, Reliance Textiles Industries Ltd. was called Reliance Industries Ltd. By 1992, the firm had produced about 145,000 tons of polyester yarn a year in its installed facility, creating another record. The Hazira Petrochemical Plant was founded in 1992 and since then, the company has been involved in the field of oil refining, petrochemicals and telecommunications. Ambani once said, "I don't believe in not taking opportunities." A mere ₹50,000 investment turned into a company worth ₹75,000 crores. 
Sudden Demise:
Dhirubhai Ambani suffered a huge stroke. His first stroke happened in 1986 when his right hand became paralyzed. He was admitted to Breach Candy Hospital following his second stroke. He went into a coma for more than a week and passed away on 6 July 2002.
His Success Mantras:
Think High, Begin Tiny: One of the primary rules of Ambani was to think large but start low. The first corporate Reliance office was a space measuring 350 square feet. The first office was a collaboration between Ambani and his cousin, Champaklal Damani, and was armed with one telephone, one bed, three chairs and two office assistants. Look how huge Reliance is now.
Keep Trying To Figure Out How To Be Creative: One reason Dhirubhai Ambani was able to make Reliance Industries so great was because of how he continued to hunt for the next great thing. Had he not thought of tapping into unexplored ideas, he wouldn't have been India's pioneer for transition.
Pay the Owners Well: His ambitious ventures required a lot of capital but its capabilities were not trusted by bankers and financiers. They were hesitant to fund his projects and did not consent because they were risky. So Dhirubhai Ambani went to his shareholders because he recognized them as the best financing source and asked them for capital. The shareholders jumped at the chance to fund his ventures and he paid them handsomely.
Supply Creates Demand: Think high, think quickly and plan ahead. Ideas aren't the sole property of anyone.
Never Give Up: Don't give up on your dreams, be brave.
Dhirubhai Ambani laid down the foundations of one of India's greatest companies. Reliance Industries, under the leadership of his son Mukesh Ambani, continues to grow from strength to strength. Dhirubhai Ambani changed the outlook of corporate India with his incredible success story and his methods will be studied for years to come by newcomers and veterans alike.